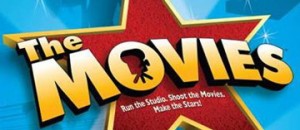 North Acton is an unlikely outpost for Hollywood. Yet in a West London business park, in headquarters filled with film memorabilia, Lovefilm is plotting its rise. A life-sized model of Indiana Jones cracks his whip next to the reception desk, while Kung Fu Panda aims a kick at visitors. The walls are plastered with stills and quotes from iconic movies from The Godfather to Jaws. The office is a vibrant reflection of an online DVD rental company that has leapt from 100,000 subscribers to more than a million in four years – one that hopes to more than double its customer base by 2014 and is set to launch an online service direct to television screens.
Clouds have gathered as Lovefilm has been forced to react to the recent postal strikes but Simon Calver, the chief executive, is relaxed. "The good thing about our business is that there are no late fees, so people won't be penalised," he says. "We track customers having a problem and give them some redress in the form of extra film views."
Lovefilm's subscribers pay fees ranging from £3.91 for two DVDs per month, to £15.65 for unlimited rentals and three discs at a time. Customers compile a wish-list from Lovefilm's database of 70,000 titles and, on returning the first disc, another is sent from the depot in Peterborough. The group sends out a million discs a week. After reporting £73.1m sales last year, it is on target to hit £100m. It was fifth in Deloitte's Fast Fifty, which ranks the fastest-growing UK technology companies.
Mr Calver, who counts The Usual Suspects and Gladiator among his favourite films, said Royal Mail was crucial to Lovefilm's success. "The post has done well for us; we just hope they resolve this situation as soon as possible."
The company has been pushing its digital streaming service for films and TV shows, launched in May, as the country faces more postal strikes. It currently offers 2,200 titles and 10 per cent of customers with access to the service have used it. The growth has come as rival services such as the BBC iPlayer have raised awareness of online viewing, although Mr Calver warns that viewers will come to expect digital programming for free.
Mr Calver argues that the DVD is nowhere near the end of its shelf life, saying: "There is no substitute for the choice and convenience of DVDs; it makes up the vast majority of our revenues." He believes the situation is unlikely to change over the next decade, despite Lovefilm spending much of time developing its digital business. "In the next 10 years there is going to be a hybrid economy that exists which is both digital and physical," he explains. "When the tipping point comes, where it is 50 per cent digital, nobody knows."
The company wants to bring digital streaming into every UK living room, and is in talks with "a number of consumer electronics companies" to develop a Lovefilm interface for television. Mr Calver said: "Lovefilm is not about rental, it's about providing home entertainment," he says. "We are expanding our digital offering and, by the first half of next year, we will be appearing on the TV set."
The rise of Lovefilm, as well as multi-channel broadcasting, pay-TV and streaming services like such as iPlayer, has changed the market, Mr Calver believes. "If you have a high fixed-cost business like a high street rental store, it is harder to compete," he says. "Market dynamics in the last five years mean we have all had to change. In the next five to 10 years we will have to change again."
Mr Calver insists Lovefilm is not competing with DVD rental stores; he sees its main competitors as Sky and Virgin Media.
The boom in online DVD rental companies came after the turn of the century, as companies saw the growing success of Netflix in the US. Lovefilm's origins can be traced to the launch of Online Rentals in 2002, which was rebranded as Lovefilm in 2004. The company grew through a series of mergers, the most significant being with Video Island, which was completed in 2006 and also brought Mr Calver to Lovefilm.
Despite studying computer science, his first job was in sales and marketing for Unilever, where he knew many of the brands from years of stacking shelves at his family's shop in Gloucester. After working as a consultant he joined Pepsi, becoming UK vice-president at the age of 29, and masterminding the launch of Pepsi Max. After a stint at Dell, he moved to the educational CD-ROM business Riverdeep. The commute between Dublin and San Francisco took its toll, and he returned to the UK to take over at Video Island in 2005.
"I've always been interested in film but wouldn't say I'm a film buff," he admits. "Given the consumer branding I've done, it was a good proposition, and I saw great potential in the marketplace."
He oversaw another significant milestone in Lovefilm's development last year, when it bought Amazon's UK and German DVD rental businesses. The deal also saw the online retailer take a significant stake in Lovefilm. Through that and organic growth, Lovefilm's total business grew by more than 70 per cent last year. Its household reach in the UK is 4 per cent which, according to Mr Calver, gives it big potential to grow. "I don't think there is anything stopping us getting to three million subscribers in the next five years," he says. There are options, including a potential flotation in the future, but the company isn't interested in selling. "We have such a huge potential in the short term." It looks, to repeat the quote from Jaws plastered across the company's headquarters, that Lovefilm is "going to need a bigger boat".
Simon Calver CV
1985-1989 brand manager, Unilever
1989-1992 senior associate, Deloitte
1993-1999 vice-president of international sales operations for Pepsi
2000-2003 vice-president UK & Ireland at Dell
2003-2005 president and chief operating officer, Riverdeep
2005-2006 chief executive, Video Island; took over at Lovefilm in 2006
Interests include rugby, cycling and collecting fine wine.
7 Comments to "The next big thing in movies"
Add Comments (+)
Trackbacks/Pingbacks