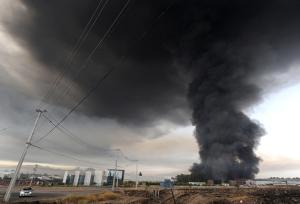 There were fears tonight a tsunami could wreak devastation across the Pacific after a massive earthquake in Chile.
More than 120 people were killed when the 8.8 magnitude quake struck the South American country early today.
It sent shockwaves out from the epicentre 70 miles from Chile's second city Concepcion, causing buildings and bridges to collapse and catch fire.
The quake, the most powerful to hit the nation in 50 years, struck around 200 miles south west of the capital Santiago.
As powerful aftershocks caused further problems along the coast, tsunami warnings were issued in 53 countries around the Pacific Ocean – roughly a quarter of the globe.
The tsunami could strike any country in the Pacific, with the US state of Hawaii potentially facing its largest waves since 1964.
Asian, Australian and New Zealand shores were at risk along with the US West Coast and Alaska.
With the Chilean president declaring a "state of catastrophe" and the death toll continuing to rise, British aid organisations deployed teams to help in the aftermath.
Chile is at high risk of earthquakes because it lies on the boundary between the Pacific plate and the South American plate.
The latest quake happened after the Pacific plate pushed down on to the South American plate.
According to seismologists, there is usually around one quake of a magnitude of eight a year while one reaching 8.8 would only be expected every few years.
source :  http://www.independent.co.uk/